London Fog---aka. Pea Soup

Recipe by: Chef John V., A Good Cooking Recipe!
Serving size: 4-6 people
Preparation time: mise en place, cooking and serving about 3 hours and 30 minutes
About: Talk about fog as thick as pea soup!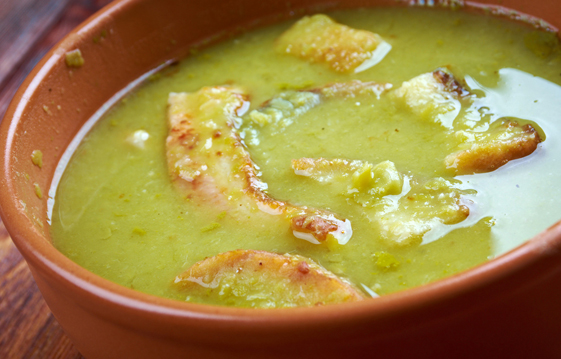 Amount/Measure/Ingredient:

Traditionally made with dried green peas and ham stock but you can substitute chicken stock or use smoked turkey.

For the ham stock---
1 smoked ham hock, about 12 ounces, soaked overnight in cold water
1 medium onion, peeled and quartered
2 sticks celery, roughly chopped, no leaves
1 medium size clove of garlic
6-8 black peppercorns
1 medium size bay leaf
2-3 sprigs fresh thyme
6-8 handful parsley stems

Preparation: Drain and rinse the soaked ham hock. Put it into a large saucepan along with the onion, celery, garlic, peppercorns, bay leaf, thyme and parsley stems. Cover with 2 1/2 quarts of cold water, bring to a boil and simmer, partially covered, for two to two and a half hours, until tender.

Let the stock to cool slightly with the hock still in the liquid. While still warm, remove the hock and strain the stock into a bowl. Reserve the stock for making the soup. Pull and shred the pork meat into bite-sized chunks, leaving the skin, fat and bones behind. Taste the stock and if it's too salty, add a bit of water but it should be okay since it was pre-soaked overnight. Now for the the soup---

Amount/Measure/Ingredient:
1/2 lb green split peas
2 tbsp. salted butter
1 1/2 cups onion, diced fine
2 quarts ham stock from cooking the ham hocks
salt and freshly ground black pepper
the pulled and shredded ham Preparation:

Melt the butter in a large saucepan over a medium-low heat and sweat the onion until soft and translucent. Add the rinsed peas (picked over and rinsed the peas until the water runs clear at the moment before adding it to them to the pot) and the stock, bring to a boil, reduce the heat to a simmer and skim off any scum. Simmer until the peas are very soft, between 20-45 minutes. Blend about three-quarters of the soup in a blender or use an immersion blender, until smooth, adding a little more stock if it's too thick. Season to taste. Return to the saucepan with the unblended soup, add some of the ham and warm through.

Garnish---

Croutons are just what's needed but you must make homemade ones and use Vienna bread. Slice the bread 3/4 of an inch thick and ten slice each slice into 1/2 in thick finger pieces, meat some butter and tossed the bread with it. Do use too much or too little butter, just enough to lightly coat the bread. Bake on a sheet pan in a 350 F oven until lightly golden and so the are crisp, let cool.

Serve in warmed bowls, use a nice deep bowl. Ladle in the London Fog and top with 4 or five crouton and bog them up and down just a bit---now---ENJOY!